If I had my way, we would all spend the month of December in our pajamas. There's just something about an oven filled with cookies, a fireplace filled with logs, and a tree filled with ornaments that begs for a warm pair of p.j's to be filled with little bodies.
However, it's not always easy to find a pair that isn't reminiscent of Ralphie from
A Christmas Story
--something my older boys are definitely not excited about.
So this year we compromised and found some at
The Children's Place
that we all love.
This is the pair my son is sporting right now. And because I want to see your family equally as adorable, I am giving away a $30 gift card to one lucky, jammie-loving reader courtesy of the generous folks of The Children's Place.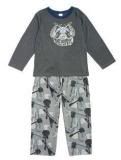 Be the 10th caller...no just kidding. Send me a
divamail
telling me how you love pajamas and I'll enter you in a random drawing to be drawn on Monday, December 15 to win the gift card.
Warm and snuggly holiday wishes to you!
(And you might want to stay tuned to this blog as well as
SuburbanDiva.com
for some more really awesome giveaways in the coming weeks. Just sayin'...)