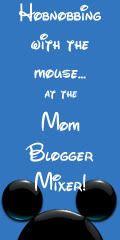 Okay, we're only days away from out Disney event. Come Friday, I'm off to introduce Disney to the mom blogosphere. Or at least my little corner of it.
We have no idea what we'll be doing, but it's been hinted that the itinerary is absolutely amazing. I'm gettin' a lil excited about it. There are 20 of us I think, and its a Mom-only gig, so it'll be different. Not sure what it will be like not to push a stroller down Main Street.
Anyway, we also get a chance to ask the folks at Disney questions. So readers, what are you just dying to know? You know I'll write all about it when I get home, but is there anything you want me to ask while they lend me an ear, or 2 in the shape of a mouse?
Comment here or divamail me at divamail@suburbandiva.com.