What's new for hungry foodies in 2009? While going out to dinner thoughtlessly is out, the re-appreciation of cooking at home is in.
A recent conversation with famous food blogger and author, Pim Techamuanvivit, reveals that it is the adventurous home cook's time to shine.
In addition to eating out less often, the influence of food-related television, blogging and online resources have changed the way we eat. "These have really expanded our food horizons and brought the world to our living rooms." She notes, "people are cooking more at home, playing with flavor."
And she should know a little about exotic flavors. Her blog,
Chez Pim
has recently been named by The Guardian as one of the top 50 blogs in the world. She has served as a guest judge on
Iron Chef America.
She has recently published her first book,
The Foodie Handbook: The (almost) Definitive Guide to Gastronomy,
and continues to write for food magazines like
Bon Appétit, Gourmet,
and
Food and Wine.
She recently partnered with
Rachel's Wickedly Delicious
Yogurt and Cottage Cheese because she appreciates their ingredients and unique flavor combinations like pomegranate acai and pear mangosteen.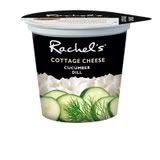 She says fellow foodies can look forward to a number of exciting food trends emerging this year.
-Lavender. You'll see this in everything from chocolates to cocktails.
-Already popular in Latin America, look for more U.S. chefs to use cactus in their dishes.
-Exotic produce, especially from Southeast Asia, becoming more mainstream and available.
-Mixing unexpected flavor combinations in familiar foods and products.
She advises adding surprises to traditional comfort foods is a great way to encourage adventurous eaters. This may help to introduce new foods into even the pickiest repertoire.
Like her food philosophy, her writing is just as varied. Today's entry may feature "Thai scallop ceviche," but one of her most popular posts was her
homemade "Pop Tarts" recipe.
So dare to be a little different this year and mix things up in the kitchen.
Any way you slice it, 2009 will be deliciously different.